Sam Hinke, Sixer's GM, joins the ranks of HOF Philly GMs Ruben Amaro Jr...who has ruined the Phillies ...and Paul Holmgren, who was instrumental in winning 2 Stanley Cups...for the Los Angeles KIngs.
Well tonight, in the NBA draft, Hinke accomplished the near impossible. He managed to use the 3rd and 10th overall picks in an absolutely loaded draft class to acquire 2 players who will probably not play a game this coming year...one guy not for the next 2 years.
You can make this shit up!
The 3rd pick went for 7 footer Joel Embiid who has both a bad back and a stress fractured foot. Boy! The Sixers spend big to acquire another Center with bad wheels. And why not? It's always worked so well in the past.
The 10th pick went for guard Elfrid Payton who was immediately traded to Orlando for Croatian forward Dario Saric. Now Saric is a pretty good player. One tiny problem...he signed a 3 year contract to ply in the Turkish League just last week and is not expected to be available to return to the NBA for at least 2 years. I'm sure Orlando hated parted with him!
Here's Sam Hinke. Just take a look a this smirking, self-satisfied horses ass.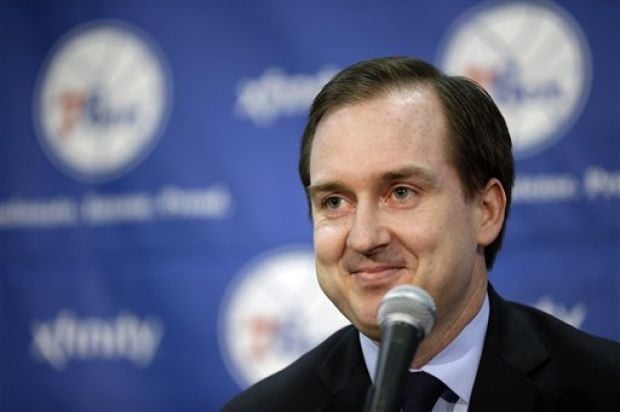 His last name is very similar to this South Park character's last name with good reason.
Can you guess what else they have in common?

Hint:
It's related to the composition of their brains.